Looking beyond the maximum display resolutions of current mainstream HDTV 1080p sets, which feature 1080 horizontal lines of resolution with 1920 pixels per line (i.e., 1920×1080), we see the forthcoming "4K" or "4KTV" support that HDMI 1.4 offers.
With 4K support (i.e., 4000 lines wide by 2000 lines high displays), two new super-high-resolution display formats are covered: 3840 pixels wide by 2160 pixels high and 4096 pixels wide by 2160 pixels high. This effectively QUADRUPLES the number of pixels on an HDTV screen and provides the extremely high video resolution and detail needed to high-end home theater systems roughly on a par with the state-of-the-art Digital Cinema projectors used in many commercial movie theaters.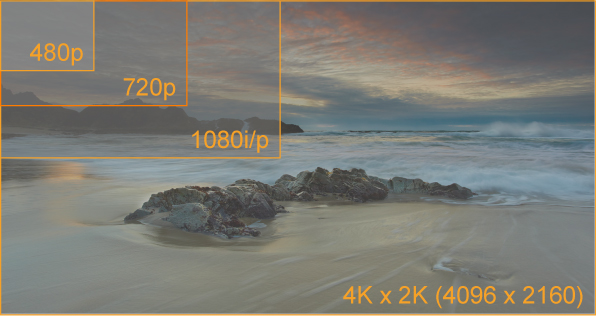 (image courtesy of HDMI.org site)
The newest HDMI 1.4 standard can now support these systems with the extremely high bandwidth connectivity they will require. Though, you will likely not see any affordable 4K TV sales any time soon, as this technology is so far relegated to the stratospheric price range (some early 4KTVs were announced with initial prices of $75,000+). But, given the way technology quickly decreases in price as supply and options increase, it should not be too long before you can buy a 4K TV or 4K projector for home use at a price similar to what early HDTVs were costing.
Should you worry about HDMI 1.4 standards when purchasing any of your home audio-visual devices now, in hopes of compatibility with a future 4K TV? Certainly if you had the option to get a device with HDMI 1.4 capability built-in, and get one for the same price as a similar device without, it may be worth considering. But, if you want HDMI 1.4 support for your a 4KTV with a price under $3,000, you may be waiting a while for that bargain 4K-TV and find yourself wanting to update components yet again before this next-generation super-TV comes along. Right now, there is no substantial source of distribution of 4K films for digital (home) cinema, so without content to exploit such displays, we do not expect any mass adoption soon.
Speaking of 4K Content: will the new format win supporters from within Hollywood movie production firms and the like? There is some ongoing debate as to whether it makes more sens to stick with the existing 2K (1920×1080) format, but with higher frame-rates (vs. 24fps – frames per second). Today's 4K high-end movie projectors (commercial cinema types; Sony has about 5,000 in US cinemas currently) can do either 4K OR 3D, but not both simultaneously, so until there is perhaps a 4K/48fps option (which could do *both* 4K AND 3D at once), this technology may not make much headway into the market now that 3DTV is taking off.